Partnership seeks to unleash DNA's potential
Ithaca and Paris, February 19, 2020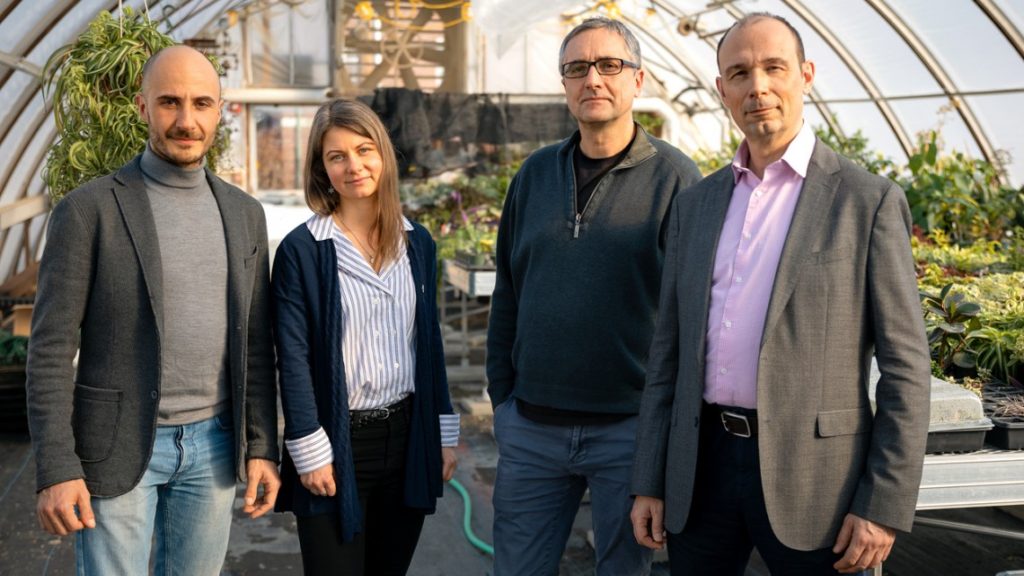 A Cornell professor is collaborating with European partners to engineer maize – the largest staple crop in the world – with desirable traits, from resistance to disease to climate resilience.
Wojtek Pawlowski, associate professor of plant genetics, has been studying the mechanisms of genetic recombination for 15 years. Now his lab, part of the School of Integrative Plant Science in the College of Agriculture and Life Sciences, is partnering with scientists from the University of Hamburg and French biotech company Meiogenix.
The startup is investing more than $1 million to fund a multiyear project with the goal of developing technologies to enable targeted genetic recombination on maize chromosomes. The Meiogenix leadership team – Giacomo Bastianelli, co-founder and CEO; and Luc Mathis, strategic advisor – visited Cornell's Ithaca campus Feb. 17-18 to launch the partnership.
Genetic recombination drives evolution and sets the foundation for all plant and animal reproduction. This process allows DNA from both parents to mix, and yields offspring with unique traits, allowing for genetic variation and diversity between individuals within a species.
However, recombination typically only takes place at certain sites on chromosomes, rather than being evenly distributed. For example, in maize, up to a quarter of the genome never recombines, which makes it harder for plant breeders to enhance important traits such as disease resistance, drought tolerance and climate resilience.
"Plants contain an incredible scope of diversity, and a lot of the traits that we'd like to see expressed, plants already have," Pawlowski said, "but they're not able to access the desired combinations of those traits during recombination, and might not be able to for many, many generations, if ever."
The Pawlowski lab plans to engineer a protein, SPO11, that can initiate recombination in maize by disrupting DNA strands and then attaching to specific genetic sequences within the strands. Meiogenix pioneered the concept of targeted genetic recombination in yeast, a much simpler organism. With this investment and collaboration, Meiogenix and the Pawlowski lab want to further develop the same process for maize and other crops.
Said Meiogenix's Mathis: "We are proud to develop our technology with Pawlowski's laboratory, a world-class academic team. … This partnership with Cornell, the No. 1 agriculture and breeding university in the U.S., is therefore strategic for Meiogenix."